1251
Gay Gran Canaria & Gay Friendly
Al Circo Ristorante Italiano
Food
After a recent refurbishment and a complete restyle, Al Circo put themselves back on the map for a true culinary experience.
With products from Italy the authentic flavours of the fresh home made pastas are prepared in a way you only get when it is done with Italian passion, the love of cooking, something the chef mastered down to the finest details.
What else you will find in a Italian Restaurant? Pizza of course. And at Al Circo you will find the right choices, the excellent balance of crispiness and flavours if it was a 5 star review they would win 1 extra star ….
But of course the Italian kitchen has much more to offer, the restaurant serves the most delicious salads, fish and meat prepared with the finest combinations which of course goes hand in hand with the large wine range Al Circo has to offer.
So once you a come to finish your romantic dinner, business lunch or the ultimate birthday party in the restaurant you will be overwhelmed with the pictures which is a whole memory lane for the owner.
From a Circus family which started touring across Europe since 1800 all the pictures inside and when there is a little time he loves to tell the stories behind the world called Al Circo.
The multilingual staff of course help you enjoy your experience to the fullest and with an absolutely authentic dessert menu you will finish your night out in excellent fashion.
In between the jungle of restaurants Al Circo is easy to find. On the main road of Playa del Inglés
you will see on the corner of one of the roundabouts, apartment block Tinache.
To enter the complex you have to go 5 metres on to Avenida Bonn and once there you will find restaurant Al Circo where they will welcome you with open arms and let you be yourself while they serve you the most delicious dishes, wines, desserts etc. Here quality and professionalism are paramount.
Last advert of Al Circo Ristorante Italiano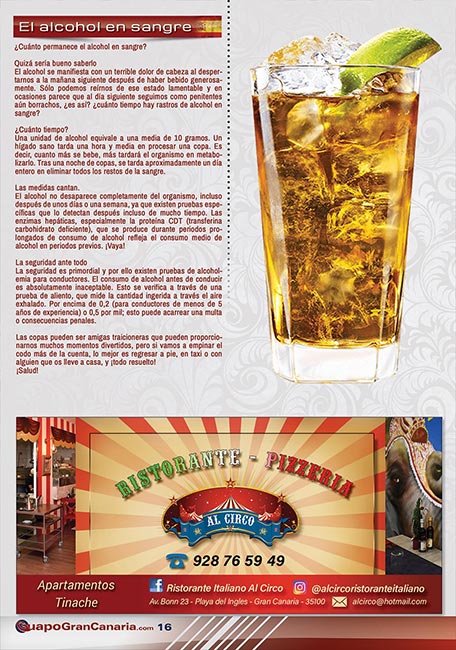 2020-07/08
Opening Hours
Monday
18:00-00:00
Tuesday
18:00-00:00
Wednesday
18:00-00:00
Thursday
18:00-00:00
Friday
18:00-01:00
Saturday
18:00-01:00
Sunday
18:00-01:00

Contact Al Circo Ristorante Italiano